Edition Comparison Grid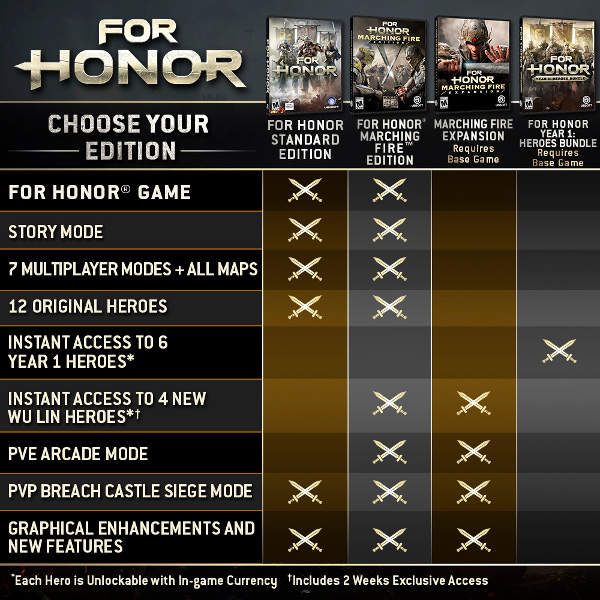 Starter Edition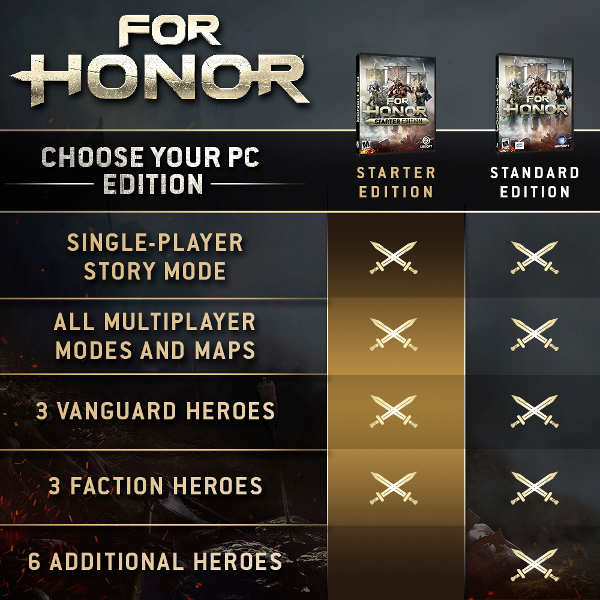 Starter Edition includes the same content as Standard Edition, including Story and Multiplayer modes. It is compatible with the season pass and DLCs. The difference is the number of heroes available when you start. Starter Edition includes six playable heroes (instead of 12), with three fully unlocked. Other heroes can be unlocked for 8,000 Steel each (8–15 hours of gameplay, depending on how you play, or $8).
FOR HONOR™ - Marching Fire Edition


Includes the For Honor® base game, plus Marching Fire™ Expansion.
Join the fight as a Knight, Viking, Samurai, or Wu Lin Warrior, and fight for the survival of your people. Play in a variety of thrilling modes including PvP, story campaign, PvE, and co-op.
About the Game
Enter the chaos of war as a bold Knight, a brutal Viking, or a deadly Samurai. Play the thrilling story campaign or fight in brutal PvP modes, now on new dedicated servers.

Enjoy an evolved experience with 18 Heroes, 18 maps, new PvP and ranked modes, thousands of gear items, and more since launch.

Dedicated servers provide a stable and seamless experience as you fight to claim victory for your faction.

Make the fight your own by customizing your Heroes with thousands of different weapons, emblems, and more.

Earn rewards while you learn the art of combat with a brand-new training mode that takes you from Apprentice to Master.
----
Constant internet connection required.
Additional notes:
Eye tracking features available with Tobii Eye Tracking.
Check out the For Honor VR experience: immerse yourself in the action with
Littlstar
.