Just Updated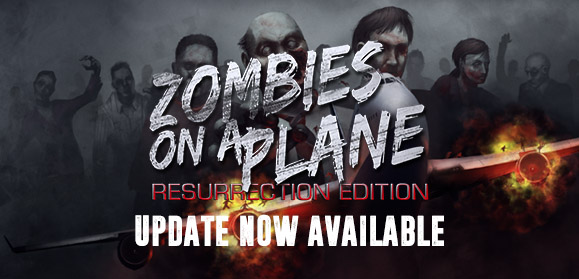 Resurrection Edition Update is here! Watch the new trailer!
We are happy to announce that the "Resurrection Edition" Update is now available. It brings bug fixes and new features such as:
IMPROVED AND EXTENDED INTERIOR LEVEL (2 NEW FLOORS WITH ELEVATOR)
The plane now features a stylish first-class upper deck and a cargo hold for moving about in. Both floors feature a workable elevator connecting each floor making moving about the interior of the large plane quick and easy. The plane also lands realistically at an airport if the player can hold off the onslaught of the zombies long enough.
NEW MUSIC AND SOUNDS ADDED
The plane modes now feature music. More sounds have been added to the interior level.
PLANE MODES SIMPLIFIED AND ENHANCED FOR BETTER EXPERIENCE
As part of the overall goal of overhauling the game to be better and more responsive, the controls of the aircraft in the plane modes now no longer require multiple inputs to shake the zombies off the plane keeping the focus on the player moving the main plane rather than individual parts for ease of play and increased fun. The combo reward system has been tuned to be more rewarding for the player allowing the gameplay to be more fluid by giving the player boosts to plane speed, making the zombies fall off the plane more easily as the plane flies close above the water while the boost is active etc. resulting in more rewarding gameplay.
ZOMBIE AI MORE INTELLIGENT
Zombies now roam the levels in a more realistic way, moving to the floor the player is on within the large jet
NUMEROUS BUG FIXES
Zombies no longer move in the floor
Zombies no longer unshakable from plane in plane mode
UI bug fixes
...many more fixes and improvements
About the Game
Zombies on a Plane is an exciting new survival game in the sky. Take on the role of the captain of a troubled jumbo jet carrying infected passengers intent on bringing the plane out of the sky, or pit yourself against hundreds of zombies in the interior of a jumbo jet or even walk along the outside as you fight to regain control as one of the passengers in this innovative and interactive gaming experience like no other.
Use the plane as a weapon or shoot your way through the aisles as one of the last surviving passengers as you to fight to stay in the air against hordes of zombies at 30,000ft. As captain in control, players must maintain the health of vital key parts, such as the engines and rudder, by knocking the zombies off the plane. As a passenger, players use an assortment of weaponry and traps to halt the zombies' advance and can manually repair parts to keep the plane in the air.
Key Features
A Multitude of Modes - 6 different game modes to test your survival or flying skills, including modes like 'Defend the Cockpit' and 'Flight of 10 Waves'


High Replayability - 5 different characters and 3 planes to choose from, all with their own abilities and playstyles


Smart Gore System - Severe the limbs off zombies to slow them down and watch as they react


Zombie Variety - A multitude of intelligent zombie types to survive against, all with different playstyles


Unique Blend of Weaponry - 10 different weapons to unlock, including zombie shredding traps, with smart score-based weapon progression system


Rewards - Innovative combo reward system keeps the game fresh by rewarding players with large combos an array of exciting game changers


Manage the Plane - Repair parts to keep the plane in the air and keep doors sealed to prevent new spawn points opening up


Never-before-seen gameplay - Battle for control on top of a flying jumbo jet or knock zombies off the plane and watch them fall with glee as they realistically react to plane movement


High Visual Fidelity - Beautiful graphics powered by Unreal Engine 3 provide stunning and destructible game environments


Supports Steamworks features